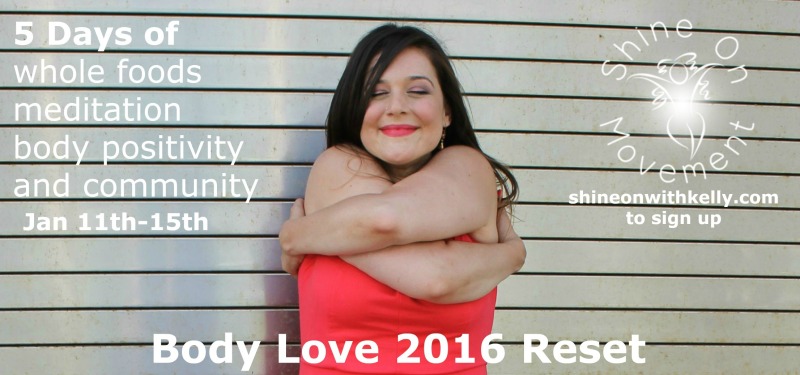 5 Days of Whole Foods, Mediation, Body Positivity and Community
Kick off the New Year's celebration with a good old body, mind and soul "car wash."
Results include:
happiness

mental clarity

feeling lighter

feeling comfortable your skin

energy

stress relief

new recipes and new friends

celebration of self
What is is all about and what's included?
Food Guidelines
Adding In:
Whole Foods, Home Cooking and lots of water baby.
Crowding Out: Refined sugar, coffee, alcohol, dairy, processed foods, refined flours and crap in general. (It's 5 days, you can do this.)
Meal Plan, recipes and grocery list are all included for inspiration. Does not have to be followed to a tee!
Exercise

Heck yes! Included is a helpful guide to help you discover the best exercise for your body that you won't dread. Instead you will look forward to.


Meditation

Daily Meditation and gratitude blessings. You will learn how to incorporate meditation into your everyday life.


Body Positivity

Daily affirmations and tools to help you feel comfortable in the skin you are in.


Intention Setting

What's a New Year with out some intention setting? You will receive a powerful coaching conversation with me where we will discover the big visions you have for 2016. Plus, the steps you need to take to make your dreams a reality.
Community

Best way to keep on track is with a team at your side. Via our closed Facebook page you can share fellow recipes, challenges, big wins and beyond with a like-minded group of powerhouses. All ready to take on 2016!

Tele-Class
Kick off tele-class via uberconference (free tele-class services) will happen the evening of Sunday January 10th. This tele-class will serve as a Q&A for any and all questions you may have about the reset, holistic nutrition, intention setting etc. Plus, it's a great chance to hear the other members of the reset tribe.

All in all, for $49.00 you are receiving a powerful coaching session, daily emails, group tele-class, meal plan, recipe book, grocery list, exercise guide, affirmation guide, intention setting worksheet, a kick ass community and most importantly results. It's an awesome way to invest in yourself for the New Year and celebrate the skin you are in!

I am giving you all the tools you need step into your power in 2016. The rest is in your hands. The more you put in, the more you will gain.
If you are ready to take ACTION, join the BodyLove team below...


Have more questions? Hit me up at kelly@shineonwithkelly.com